Alluring Destinations In Vietnam That Must Be On Your Bucket List
From pristine beaches to the receding mountain ridges that seem to be straight out of a storybook, Vietnam is home to numerous alluring destinations. Whether you're looking for a serene ambiance or want to indulge in nature, the country has something to offer everyone. So let's take a look at the top most destinations in Vietnam that you must visit if you're planning a trip to this Southeast Asian country.
Ha Long Bay

Located about one hundred and thirty kilometres east of Hanoi, Ha Long Bay is a dreamy, mystical place in Vietnam. It is renowned for its limestone caves, turquoise blue water, marine cliffs, and impressive biodiversity. You can enjoy here some of the most adventurous water sports activities, such as scuba diving, snorkelling, and kayaking. The best way to experience the beauty of Ha Long Bay is by undertaking Halong Bay cruises that range from top-level to basic.
Hanoi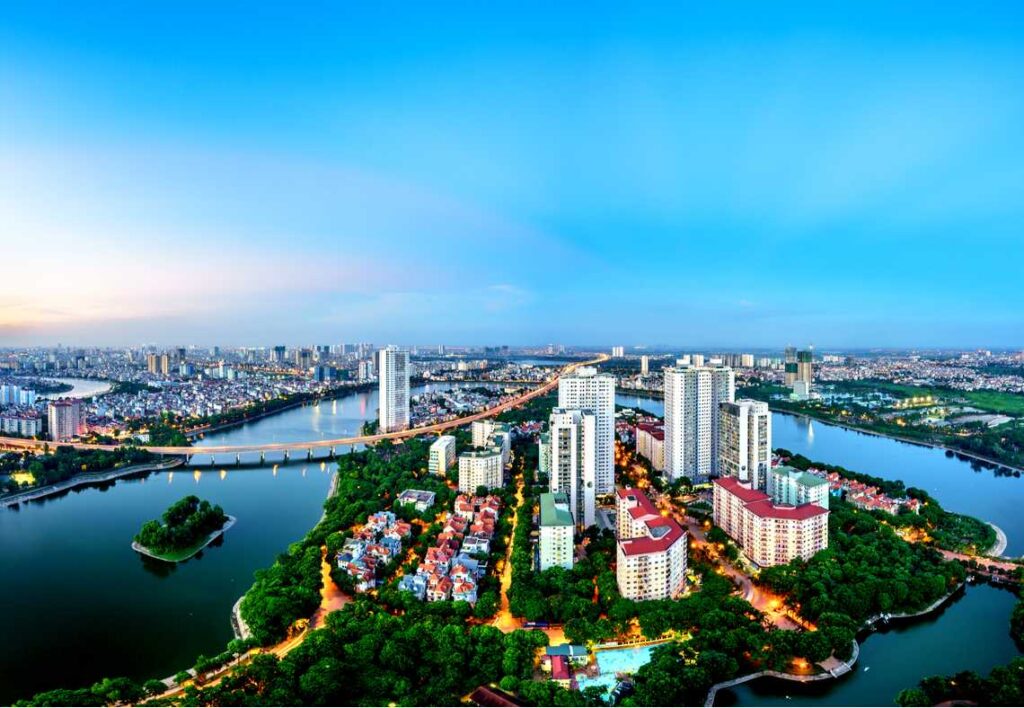 Your trip to Vietnam won't be complete if you don't visit Hanoi. It is the capital of Vietnam, known for its beautiful old quarter, ancient temples, tumultuous history, and mouth-watering street food. Make the most of your time in Hanoi by watching a traditional water puppet show and sipping specialty coffee. You can also take a tour of the Hoa Lo Prison, which is a jail in which American and Vietnamese prisoners were incarcerated. Pay tribute to 'Uncle Ho,' the leader who fought for an independent Vietnam. If you want to experience the nightlife of Hanoi, you can head to Bia Hoi Junction. It has small bars, numerous street food stalls, and shops.
Hoi An

Hoi An is a charismatic old town situated south of Danang along the central coast. The highlight of this town is the bright lanterns that adorn every building. The town is also known for its Chinese temples, historic buildings, heritage houses, and wood-fronted shops. One of the prime attractions of Hoi An is The Japanese Bridge, which was built by the Japanese community in the 1590s to connect with Hoi An's Chinese parts in a better way.
Hue

Hue was once known as the imperial capital of Vietnam. It is split into the old and the modern city by the Perfume River. One of the city's most famous monuments is the Citadel, which was the seat of the Nguyen emperors in the ancient era. It is a complex of beautiful temples, grand palaces, and fortified walls. Another important landmark of the city is the Thien Mu Pagoda, the city's official symbol.
Sapa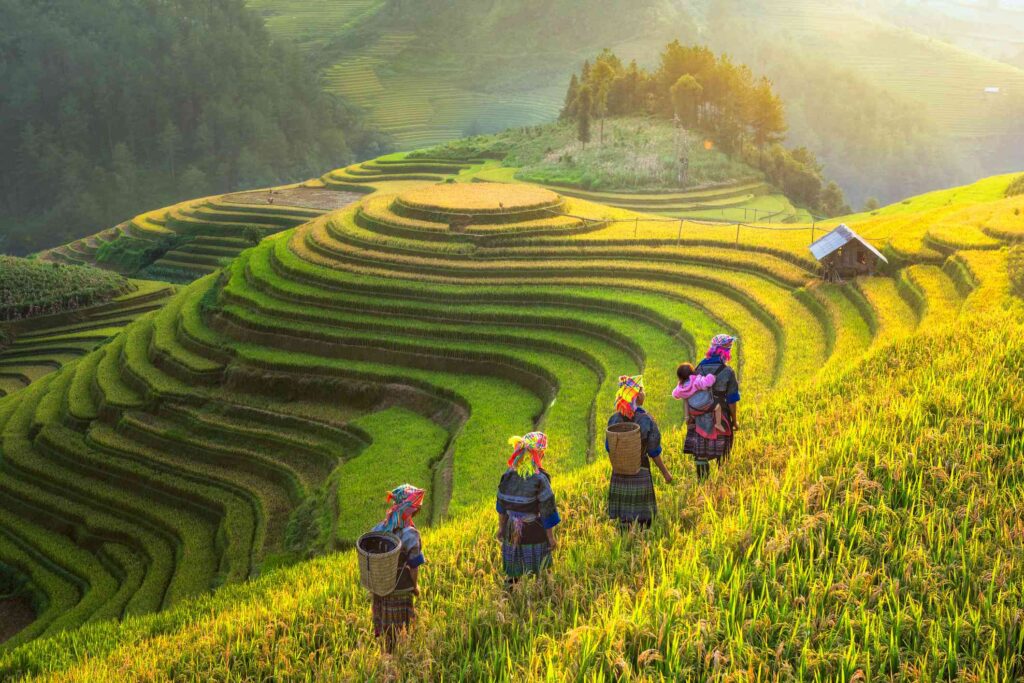 Sapa is a beautiful town situated in the Hoang Lien Son mountains. It is renowned for its breathtaking natural beauty and captivating landscapes. The main highlights of the town are the French colonial sites like the Gothic church, the city hall and the town square. Various ethnic tribes gather in the town to sell local produce and jewelry. You can trek the terraced slopes and hills of this high-altitude mountain town and stay in awe of its awe-inspiring natural landscapes.
Nha Trang

If you're looking for seaside adventure and fun you must visit Nha Trang. It has beautiful beaches and limestone islands. You'll also find here high-rise luxury resorts, hotels and restaurants. If you're coming with kids you can visit Vinpearl Land and Water park that has amazing low to medium intensity rides. At the water park you can enjoy water slides and rain dance. You can also learn about the city's rich history by visiting The sacred Po Nagar Cham towers that were built in the 7th and 12th centuries.
How to get a Business Visa for Vietnam in 2020?
Looking to start your own business in Vietnam? According to the World Bank, it is one of the best and fastest-growing economies in South East Asia. Vietnam's posh lifestyle makes a very good appeal to all those trying their hand at entrepreneurship. Or perhaps you have a business meeting to attend there? The first and perhaps the only challenge one will be faced with is to acquire a business visa for Vietnam. We will be providing a detailed, step by step guide on how to acquire the aforementioned Visa, as quickly as possible, without much technical hassle so you can embark on your professional journey to the land of the "Ascending Dragon".
Before we begin with the process of acquiring the said Visa, it is imperative to first know certain facts related to the Visa granted for business purposes by the Vietnamese government.
It is a short-stay visa, categorized under DN, ergo it will permit you to stay for no longer than a period of 12 months. If you wish to extend your stay, you will be required to renew the Visa before it expires.
How much will this cost you? The minimum sum amounts to around 130USD for the overall process, including the stamping fee and various other official service charges. However, this is for single entry and can vary if you increase the number of entries. We place the maximum limit on around 430USD.
You can apply and obtain this Visa even if you do not have a sponsor.
Now, onto the process itself. You can apply for a business visa in two ways:
Apply at an embassy in your country
We shall now discuss both the cases separately.
Visa on Arrival
This is perhaps the easier one of the two ways because it can be done from home just at the push of a few buttons. The documents required for this Visa are:
A passport that is valid for the next 6 months and has at least 2 blank pages.
A few recent passport size photographs.
Any address/ID proof if mandated by your country's government.
It should be noted that this method is only applicable to those arriving via air transportation and is not supported at international railway junctions or Vietnamese ports. This letter permits you to get a valid visa at Vietnam International Airports.
After applying for a Vietnam visa on arrival and paying charges online, you will get an endorsement letter by the Immigration Department of the Ministry of Public Security.
All you have to do is-
Go on an official Vietnamese Visa application website, look up the application form for Visa on arrival, fill in the correct details. Please note that the discovery of any fraudulent information shall be treated with immense severity. Thus, ensure that you put in the details correctly. Mismatch of even a single letter in say, your middle name, can cause you to get sent back from the airport itself.
After filling the form, submit and get the online confirmation from the visa office and pay the service charges online.
The visa agent shall process your completed application, and an approval letter will be issued and sent to you on the email address you provide in your application.
Get a few printouts of this approval letter and carry it with you when you travel to Vietnam. You will be asked to produce this approval letter at the "Visa on Arrival" counter at the airport, along with a few passport size photographs. You shall also be asked to pay the stamping fee at the counter. This can be paid in either USD or Vietnam Dong.
Apply for Visa through Embassy
Many times, one wishes to acquire a visa beforehand because they might have a business meeting to attend to immediately. Whatever the reasons may be, it is very much possible to get a business visa before you make your way to Vietnam. This involves the very generic method of applying through the Vietnamese embassy/consulate in your country of residence.
Once again, the required documents consist of a passport that is valid for the next 6 months and your general ID proof along with a few recent passport size photographs.
The curious case of Sponsorship
If you are a foreign national or an expatriate being employed by a corporation in Vietnam, you will have to contact your business partner/employer to provide you with a sponsorship letter.
The following should be mentioned in the letter:
Your various details as given in your passport. This includes your full name, passport number, date of issue and expiry, etc.
The duration of your stay.
The type of Visa to be given.
Your sponsor will then have to apply for a visa for you at the Vietnamese Immigration Office. Once he/she receives the letter of approval, it has to be mailed to you. You should then send this letter along with the Visa application form and a passport-sized photograph fixed to it to the nearest Vietnamese embassy in your country. After the validity of the application and the approval letter has been confirmed, you shall be granted the Visa. This entire process may take up to 10-12 working days at maximum.
No Sponsor? No worries.
However, in case you don't have a sponsor, you can still apply for the Visa yourself. This is how you will do so:
Locate the nearest Vietnamese embassy/consulate in your country.
In the office, ask for a business visa application form.
Fill out this form and submit, along with an application/service fee.
You may or may not have to appear for an interview/biometric once your application has been processed.
You may or may not have to pay an additional fee for the Visa. This varies from country to country.
Your Visa will then be sanctioned and sent to you.
NOTE- As mentioned earlier, if you plan to arrive in Vietnam by any means other than air travel, you shall have to acquire a visa beforehand. Thus, application through the embassy is your only option.
In conclusion, Vietnamese immigration laws are strict, as they should be, but also very well structured hence making the visa application process quite straightforward. Even so, if you are stuck in any way, you can always contact the Vietnam embassy, and they will guide you through the various nuances and dogmas of the application process.
How to Apply for Vietnam Tourist Visa | 2020 Detailed Guide
Vietnam offers the most amazing natural wonders and exquisite heritage and culture. If you are planning to visit Vietnam, you will not be disappointed at all. The diversity of this country will leave you spellbound and enriched for a lifetime.
To make this stay comfortable and hassle-free, you need to plan everything from scratch. And the basic requirement before traveling to Vietnam is to know the entire Visa related information and to Apply Visa for Vietnam at the correct time.
Firstly, let us discuss the relevance of Visa. Visa is the document that legalizes the entry of foreigners to a particular country. A passport is also required along with the visa. So they are complementary documents.
Ways to Obtain Visa for Vietnam
Exemption from Visa
Vietnam allows exemption from Visa to citizens of 24 countries for a maximum period of 90 days. Having valid passports is enough for the citizens of this county to visit Vietnam. However, the time period offered for each country varies.
The lists of countries exempted from Visa are as follows:
Asian Countries: Thailand, Malaysia, Singapore, Indonesia, Cambodia, Lao, Philippines, Myanmar, Brunei, South Korea, Japan, Kyrgyzstan
European Countries: Russia, Sweden, Denmark, Finland, Norway, UK, France, Germany, Spain, Italy, Belarus
South American Countries: Chile
E-visa – Procedure
Vietnam also provides e-visa to the citizens of 80 countries. The e-visas are valid for 30 days. This is the easiest way of obtaining a visa since it takes only 3 days to obtain the same.
Below is all the information for how to obtain e-visa:
You need your passport size pictures, passport details, and address details.
Access the link for issuance of e-visa for Vietnam
Download the form, fill up the required details and submit the same
Payment for e-visa
You will receive your approval for e-visa within 3 working days
Show the printed E-visa at the airport
Tourists with e-visa can directly go to the immigration office. The 30 days stay can be extended only after permission from within Vietnam.
Visa on Arrival
You can get a visa for Vietnam on arrival as well. This process includes both the process of online application as well as obtaining the visa after arrival to the Vietnamese International Airport. This visa gives you permission to extend your visit to more than 30 days.
Below is all the information you need to know about Visas for Vietnam.
Obtaining a visa for Vietnam combines both the process. The process of application for the visa is to be done online. Later on arrival in Vietnam, the official visa is handed over to the visitors.
The process of online application is time-saving and easy. You need to fill the application by providing the basic details such as Name, Gender, Date of Birth, Passport Details, Nationality, The Type of Visa – Tourist or Business, Entry, and Exit Dates.
The next step is to make the payment for the online visa application. Before the final payment, you should check all the details provided by you.
It's now your turn to wait for the visa approval mail. This approval mail will be issued by the Vietnamese Government. Once you receive the mail, you are now ready to pack your bags and prepare for the upcoming trip.
Print out the approval letter before boarding the plane. You need your passport and your passport size pictures. These documents need to be presented to the Immigration Officers at Vietnamese International Airports. The officers will check the documents after which you will get your visa stamp on your passport. The payment for the visa stamp fee has to be done at the airport with the Vietnam currency.
The 10 Most Beautiful Beach Destinations in Vietnam
Wrapped around by scenic beauty with 2,000 miles of coastline along with popular island spots, Vietnam is surely lacking no beauty in all of its beach destinations.
Ha Long Bay: This site is considered to be the UNESCO World Heritage situated in Hanoi where one can have a great day trip that takes approximately 4 hours by bus to cover up this beautiful spot. Ha Long bay coast is mostly known for its limestone outcroppings and it has a number of beaches among which the Bai Chay is the most amazing one that has an artificial set up attracting most tourists. One can have a ride on a boat to experience it fully.
Nha Trang: The south of Vietnam boasts some of the most beautiful beaches. This City beach or the Trang Beach has some of the most iconic views of the bay. It is also known as "Whale Island" surrounded by greenery and a peaceful ambiance.
Sao Beach: Perhaps considered as one of the most perfect beaches of all hugged with clear water and powdery sand surrounded by palm trees that feels like almost waving at the visitors, and has a jungle in its backside. The white sand is just ideal to spend a lazy evening over cocktails. This beach is 25 kilometers away from Duong Dong which's the capital of Phu Quoc.
Con Son: This Con Son is a combo of 15 islands with the integration of 200km of amazing coastline and beautiful coral reefs. Co Son is specifically known for its awesome beaches among which An Hai and Lo Voi are the popular ones.
Cham Island: This Island includes 8 small islands off the Hoi An coast. Some of the best beaches in Vietnam exist here. Chong Beach is the most beautiful among them that has transparent water, white sand, calm sea and not too many tourists' crowd.
Doc Let: Doc Let is one of the most stunning beaches to visit in Vietnam. A blissful surrounding having palm trees all around with blue water kissed by white sand. Though it's a very beautiful place to spend time in yet very few tourists come here and is rarely explored. So if anyone is looking for a peaceful time this beach is the perfect destination for them.
Mui Ne: Mui Ne includes the piece of Phan Thiet and Tien Ward familiar or its coastline and a couple of natural wonders. It's a small fishing town and has a mesmerizing desert nearby known as the Red Sand Dunes and White Sand Dunes that are highly popular for hot air balloon rides and sand-surfing.
Phu Quoc: This Island is one of the largest Islands in Vietnam and is also water-most Island. A scenic mountain view covers the Phu Quoc Island veiled in the tropical jungle having many other beaches across it drawing the main attraction of this place.
Con Dao: Con Dao Island is generally consisting of 16 Islands on Vietnam's Southern Coast. This Island is mainly known for its coral reefs, tender sandy beaches, and contrastive marine life. Con Dao proposes access to the Dat Doc Beach. On the main island of Con Dao, one can find a homestay, a couple of high-end restaurants, and budget-friendly hotels.
Bai Xep: This beach peeks across the busy town of Quy Nhon having idyllic surroundings. An evening walk on this soft sandy beach, plying on the clear warm water and enjoying in the beach sidebars are some of the most alluring experiences one can have here.
The above ten beaches are some of the highly recommended beaches to visit in Vietnam.
Want to enjoy the lovely pleasant views of these beautiful beach destinations? Just plan your next holidays to Vietnam. Vietnam Tourist Visa is essential whenever you plan a trip to Vietnam. We, at VietnamsVisa, provide "Visa on Arrival" to tourists from more than 170 countries for visiting Vietnam without any hassles. You can apply & receive your Tourist visa approval letter easily through us.
We are Vietnam's leading visa-on-arrival service provider with more than 20,000 happy customers.
Email: support@vietnamsvisa.com
Hotline/WhatsApp/Viber: +84 399 161 166 or +84 981 639 686
Understanding Entry and Exit Procedures for Vietnam in 2020
The Vietnam Visa Waiver Program aims to make it easier for citizens of specific countries to visit the Southeast Asian country. Likewise, the visa online service providers enable international tourists traveling by air to apply for and process various types of visas over the internet. Most international tourists these days avail visa online services to obtain different types of visa – tourist visa, student visa, business visa, diplomatic visa, single entry visa, and multiple entry visa – without any hassle and delay.
But the tourists traveling to Vietnam are required to submit Vietnam Entry and Exit Form (M3) while getting their passports stamped at the airport. The form requires the visitor to furnish a variety of information accurately. While filling in the entry/exit form, the visitors need to mention the required information accurately and clearly. Also, they need to just keep in mind the prohibited goods for import or export while traveling.
Important Information to Remember while Filling in Vietnam Entry and Exit Form (M3)
The international tourists are allowed to carry luggage, personal possessions, and other good exclusively for the purpose of personal use.
The must declare the luggage and personal possessions at the Customs while arriving in or leaving Vietnam. However, the visitors are not required to declare items that they have consumed during their stay or received as gifts while leaving the country.
While visiting Vietnam, international tourists are allowed to bring in a slew of items for personal use. But they need to explicitly mention the items in the entry/exit form that are not for personal use. For instance, a visitor needs to mention specifically the electronic devices, cameras, gold/silver jewelry and gemstones which are not for personal use.
The visitors are not allowed to bring in gold and currencies exceeding specific value. For instance, a tourist must deposit gold weighing more than 3000 grams. They can also re-export the surplus gold after keeping 3000 grams. Similarly, a traveler is not allowed to carry foreign currencies over US$ 7,000 in various forms – paper, coin, and traveler's cheque. Also, he is allowed to retain Vietnamese Dong up the extent of 5000000.
The international tourists are allowed to bring in duty-free items to Vietnam which are not prohibited by the laws. But they must keep in mind the quantity and price of individual items. For instance, they are not allowed to bring in items whose value exceeds $300. Likewise, the visitors cannot bring in more than 1.5 liters of alcohol, 50 cigars, 500 cigarettes and 150 grams of tobacco threads.
While leaving Vietnam, visitors are not allowed to take specific items that are not allowed to import or export from Vietnam without the required permission. For instance, the laws in Vietnam restricts imports and export of specific items like antiques, rare fauna and flora, weapons, ammunition, explosives, inflammable, toxic chemicals, opium, and other narcotics. Similarly, they are not allowed to carry documents related to national security and items which impact Vietnam's customs and traditions adversely.
The international tourists can easily visit Vietnam for various purposes by obtaining a visa on arrival. But they must fill in the Vietnam Entry and Exit Form (M3) in advance to accelerate the immigration process. They also have the option to fill in the entry/exit form after arriving at the airport.
We at VIETNAMSVISA, offer travelers the best way to get their visas to Vietnam over the Internet in advance. With us, you will avoid the frustration, long wait, and expense of dealing with local embassies, and feel secure in mind that the process of obtaining a visa is being handled online by our company who experienced 10 years in Visa processing.
You can mail at "support@vietnamsvisa.com" or call us on "+84 981 639 686" for any visa-related queries before or after traveling to Vietnam.
Changing from Single to Multiple Entry Visa for Vietnam
Vietnam is located in Southeast Asia and is spread along the eastern coast of the Indochinese peninsula. You can obtain a Vietnamese visa either on arrival or from Vietnam Embassy. There are two types of visas can be obtained- Single Entry or Multiple Entry visas.
A single entry visa is also known as a single-use visa. The holder of this visa is allowed to enter and exit Vietnam only once during the validity. Your visa automatically becomes invalid, even before the expiry date, once you leave Vietnam. If you want to visit again, you will have to apply for a visa.
A multiple entry visa gives you access to unlimited entry and exit for as long as the validity date of your visa. The first arrival in Vietnam, for a multiple entry visa, has to be by air, and your latter visits can be by land or sea. You can exit and re-enter the country without applying for another visa before or on the date mentioned on the visa approval letter.
Visa via Embassy or Consulate
Vietnamese embassies and consulates are all around the globe. You can obtain a visa by applying with the embassy, though the fees at the embassies are way higher than using an agent, and the process is tedious and slow.
Visa on Arrival (VOA) is received at the airport and is available for entry by air only. You can fill out an online form to apply for the VOA or hire an agent for the same. It is much easier, cheaper, and faster to apply for a VOA and is the same as obtaining a visa from the  Vietnamese Embassy without too many long procedures. Before applying for VOA, please note that your passport should be valid for six months or more at the time of applying for the visa.
Fill the online form with the correct information from your passport.
Select the type of visa you want to apply for- 1 month, three months, single entry, multiple entries, etc..
Once you fill the form, make the payment online. You will receive a confirmation via email. Cross-check your information and make sure everything is filled correctly and properly.
You will receive the visa approval letter within two working days at the maximum for a normal visa.
Once you arrive at Vietnam airport make sure you have all the necessary documents (passport, printed pre-approval the letter, etc.) along with two colored photographs in standard size 4×6 cm
Pay the cash as per the type of visa chosen by you in USD
25USD/ person single entry (1 to 3 months)
50 USD/ person multiple entries (1 to 3 months)
95UsD/person multiple entries (6 months)
135USD/person multiple entries (1 year)
To get your visa stamped on your passport, show the visa approval letter to the Immigration authorities at the Vietnam airport.
The Vietnam Immigration Department introduced E-visa platforms in 2017, which allows travelers to apply for visas online. Currently, citizens of about 40 countries are eligible to apply for visas online and avail of the E-visa service.  E-visas are available to obtain a single entry visa only with a validity of 30 days and are not extendable.
The processing of E-visa takes around three to five days and has not been implemented properly. There are a lot of glitches and several complaints of missing data.
The citizens of certain countries do not require a visa to visit Vietnam for a certain period of time.  However, visa policies keeping changing, and it is essential to keep a tab on the same.
List of countries exempt by Vietnam for visa:
Exempt for 14 days:Myanmar, Brunei
Free visa for 15 days: Denmark, Sweden, Japan, Russian, Finland, Uk, Italy, Norway, Spain & South Africa
Visa exempt for 21 days:Philippines
Vietnam visa-free for 30 days:Malaysia, Singapore, Cambodia, Thailand, Laos
How to change a single entry visa to multiple entry visas?
If your schedule has changed due to some unforeseeable reason and you want to change your single entry visa to multiple entries,
You can follow one of the below-mentioned guidelines:
Firstly, if you have just applied for the visa and not paid the approval fee, you can log in to your account on the website from where you have applied and edit your information, or you can send an email to the website/the agent and request them to help you with the same.
In case you have applied and made the payment for the service fee, contact your agent or website immediately and provide them with your ID. If your information is not sent t for the process to the Vietnam Immigration Department or if it has been sent but not yet processed by the Immigration Department, your information can be updated and changed.
However, if the department has begun processing your visa or if you have received the approval letter, there is nothing that can be done to change or update your visa. You will have to apply for a new single entry or multiple entry visa to re-enter. Vietnam Immigration Department has no correction policy towards an issued visa.
Visa extension/ renewal
There are two requirements for a visa extension:
Your passport has to be valid for six months or more on the date of extension
There should be at least two blank pages in your passport
Your visa can be extended for single entry only and for a period of 3 months. An ongoing visa can be extended twice at the maximum.
Visa renewal is good for a multiple as well as a single entry, and if you wish to obtain a new visa without leaving Vietnam.
The extension of a tourist visa has to be organized by an agent and costs as low as 10USD. It takes anything between seven to ten working days to process the same. You can extend your visa for 30 days (30USD) or 60 days (60USD) only depending on the visa you hold.